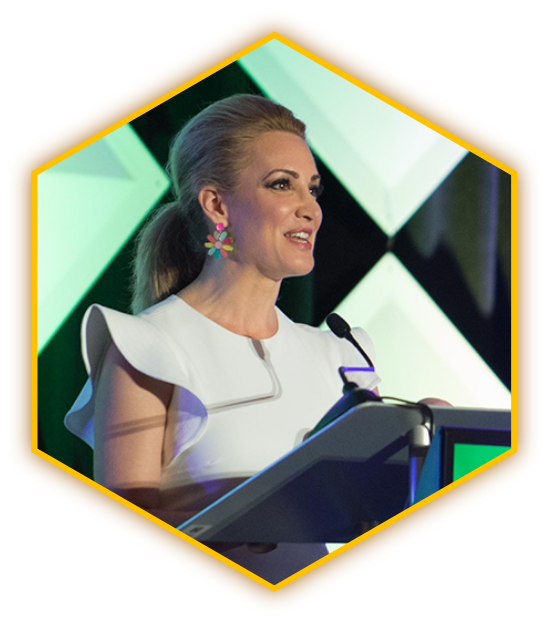 Whiteboard Sessions
Monday, September 27, 2021  |  7:15 am
Wendy Reinhardt Kapsak, MS, RDN, is the President and CEO of the Produce for Better Health Foundation (PBH). At PBH, she guides the Foundation's efforts with hundreds of public and private partners to advance the overall effort of increasing fruit and vegetable consumption for happier, healthier lives. Under her leadership and through a two-year transformation, the organization launched the Have A Plant® Movement in 2019.
Prior to joining PBH, Wendy was the Global Lead for Food, Nutrition and Health Partnerships at the Monsanto Company (now Bayer Crop Science). While at Monsanto, her efforts focused on bridging the food, nutrition, culinary and agriculture communities for greater understanding and collaboration.
Prior to Monsanto, Wendy served as Senior Director of Health and Wellness at the International Food Information Council (IFIC) and IFIC Foundation in Washington, DC. While at IFIC, she directed food and nutrition communication strategies, including consumer research, opinion leader and media outreach, as well as publications and partnerships, for multiple food safety and nutrition-related issues.
Wendy earned bachelor's and master's degrees in Nutrition and Exercise Science from the University of Missouri, Columbia and James Madison University, respectively. She completed her dietetic internship at Yale-New Haven Hospital — an affiliate of the Yale University School of Medicine.
Tapping Into Consumers' Desires Around the Plant Forward Movement
Eating more fruits and vegetables may be the single most important action consumers can take to live happier, healthier lives. With growing interest in all things plant forward, there exists an immense opportunity – across the entire store including in e-commerce – to inspire consumers and make these purchases an everyday habit. Retailers have the superpowers necessary to drive real, meaningful and sustainable change for their bottom lines and the public's health. It's time to unleash them.
Join this dynamic discussion to address the following:
What actions can retailers and suppliers take to make fruit and vegetable purchases (fresh, frozen or shelf stable) repeatable and habitual?
How can social media and other digital platforms be leveraged to inspire consumers to choose more fruits and veggies; tap into emotions; and create shareable moments?
What cross-merchandising and e-commerce tactics can be deployed in this space encourage shoppers to purchase fruits and vegetables regularly and for every daypart?
How can retailers encourage parents to expose their kids to a wide variety of fruits and vegetables, creating next generation of fruit and veggie lovers and loyal shoppers?
Wendy Reinhardt Kapsak's participation was made possible through CGA's partnership with the Fresh Produce and Floral Council.